This type of vacation we suggest not only to couples of all ages, but also to families with children: during your stay, you will enjoy daily excursions in deserted and inhabited atoll islands, to snorkel and admire the beauty of the savage nature of Maldives. In our all-inclusive packages are included bolentino fishing excursions at the sunset to enjoy the isand from a different and more romantic perspective.
Everyone of our guesthouses have double room, equipped with all comfort (private bathroom, A/C, fan, TV, fridge, safe case and free Wi-Fi), all at a few meters distance from the sea.
On everyone of our island you will also find a beach (Bikini Beach) equipped to sunbathe and swim in the crystal waters of the island, in full relax.
Here below you can see our proposals for each single guesthouse for a 7 nights stay.
All-inclusive package comprehensive of:
– Welcome at the airport of Malè with an English guide and the boat transfer to the port of Malè;;
– Transfer Malé – Hangnaameedhoo on a fast boat (about 80 minutes) with departure from Malé between 3:00 p.m. and 4:00 pm (between 9:00 a.m. and 10:00 a.m. on Friday);
– Transfer Hangnaameedhoo – Malé on a fast boat every day at 7:15 am (Saturday at 7:30 a.m. and 11:30 am);
– Accommodation in double room with private bathroom, air conditioning, ceiling fan, safe, mini bar and tv;
– Breakfast, lunch and dinner with soft drinks included (water, Coca-Cola, fruit juices – alcoholic drinks not allowed);
– Daily excursions at desert islands, sand banks and inhabited islands with guided snorkeling trips;
– one line fishing excursion per week;
– Maldivian guide who speaks English;
– Fee for the community of the island;
– Green Tax;
– Free Wi-fi for our facility's guests;
– Snorkeling equipment till to end of stock;
In the deals above the following costs are not included:
– Tips for the Staff;
– Flying ticket from/to your Country;
– Airport fee of 25$ per person (until today it has been never requested);
– Sanitary insurance: insurances specialized in the travel sector can be bought online.
EXTRA ACTIVITIES
If you are seeking something even more adventurous, we can propose you some extra excursion, for a fee, the you will be able to book directly on the Island.
SNORKELING WITH THE MANTAS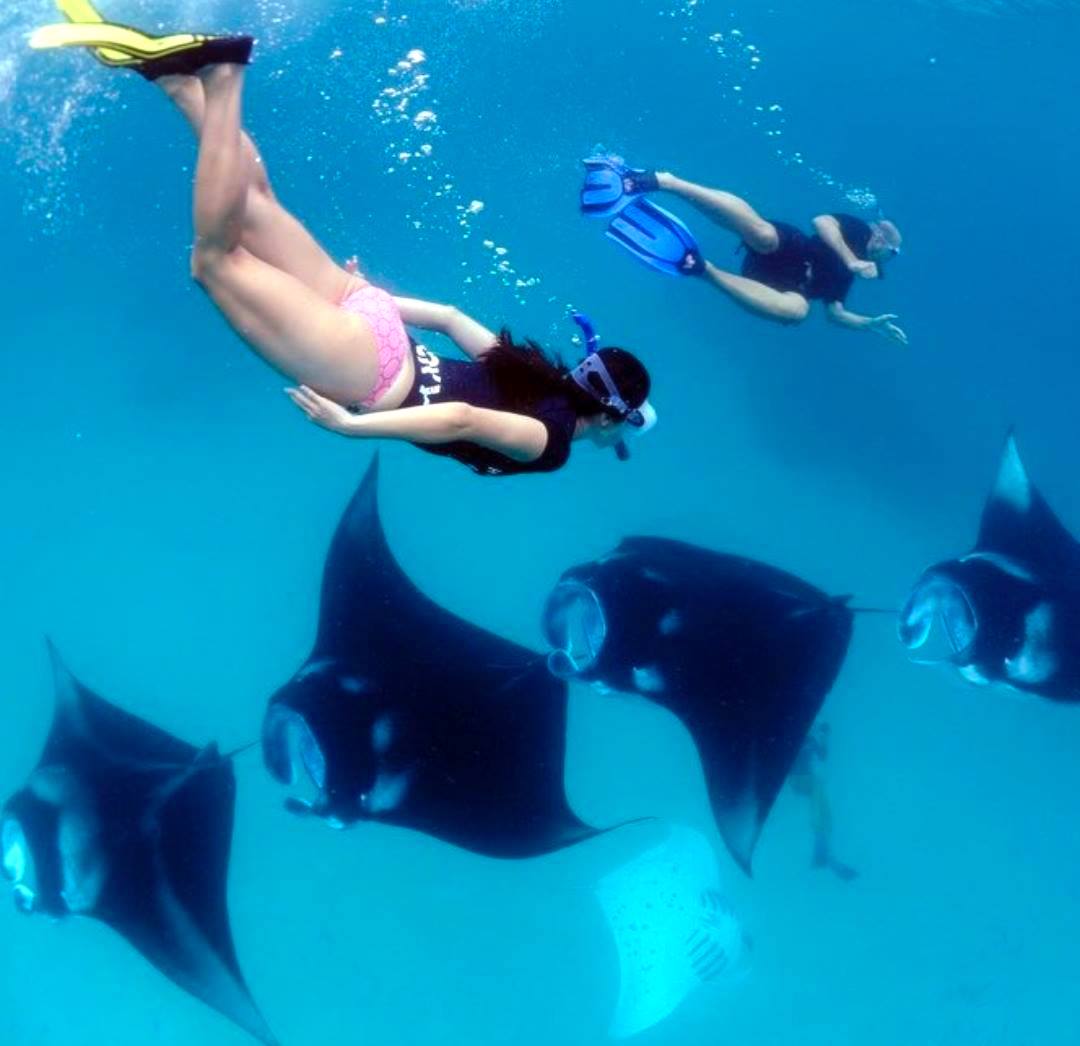 Mantas are cartilaginous fishes that can reach huge dimensions, up to 6-7 meters of width and 1 ton of weight. They are not dangerous and they feed on plankton. They are among the biggest sea animals in the Maldivian's waters and their charm always attracts the attention of the divers. Usually they swim just under the surface of the water and they are peaceful, sometimes they let you get closer whit no problem.
To dive with them, next to them, and seeing them dance under the water in search for food it's a breathtaking experience.
SNORKELING

WITH THE WHALE SHARK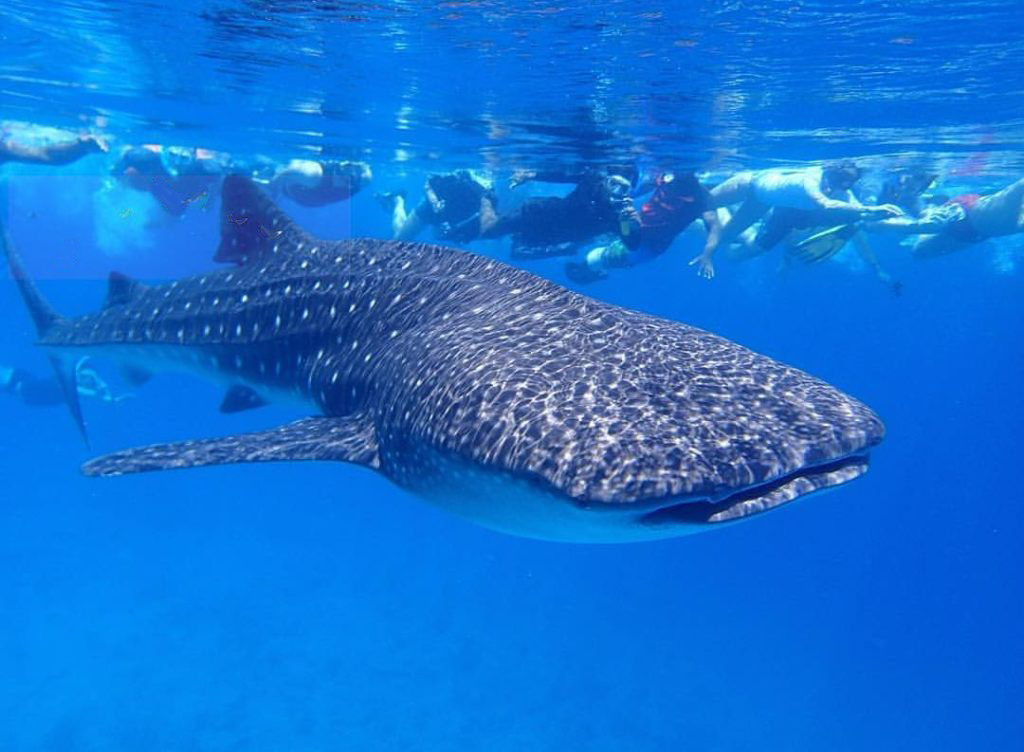 The whale shark is the biggest shark on earth. It can measure up to 14 meters of length, with a weight up to 18 tons! Also this gigantic fish it's not dangerous to humans seen that he feeds on plankton, little shrimps and squid.
It is thought that to feed himself he filters 2 million liters of water per hour.
The experience of snorkeling alongside this giant of the seas it's unique and unreplaceble. However, we must not forget that, in any case, we are talking about pelagic species, savages, that swim free in the ocean and not being able to see them it's a risk that you have to take into account when you book the excursion.
Our stuff will be able, anyhow, to suggest you the best period to see this wonderful creatures.
The best time to snorkel or dive with the whale shark is from May to December. There are sightseeing, however, all year long, and they increase during the full moon, when the tides are at their strongest.
ROMANTIC DINNER ON THE BIKINI BEACH OF THE ISLAND

 
At the request of our guests it is possible to dine in the most beautiful restaurant you have ever seen: the roof is the sky, there are no walls and you will be entertained by the sweet sound of the waves. A romantic dinner, at candle light, in the bikini beach of the Island, it's an experience that you will never forget.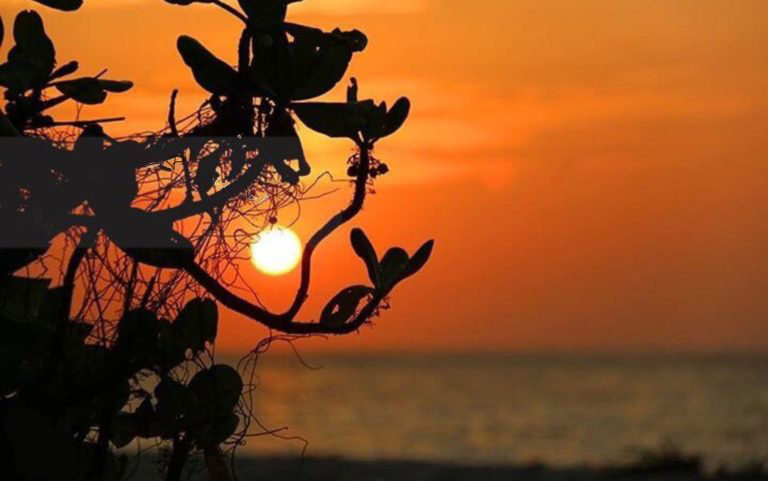 ROMANTIC DINNER ON A DESERTED ISLAND 

 
If you seek something really special, if you want to celebrate an anniversary or a particular date, a romantic dinner on a deserted Island is what you are looking for.
The intimacy and the silence will be absolute and you will live a magical experience halfway between romance and adventure!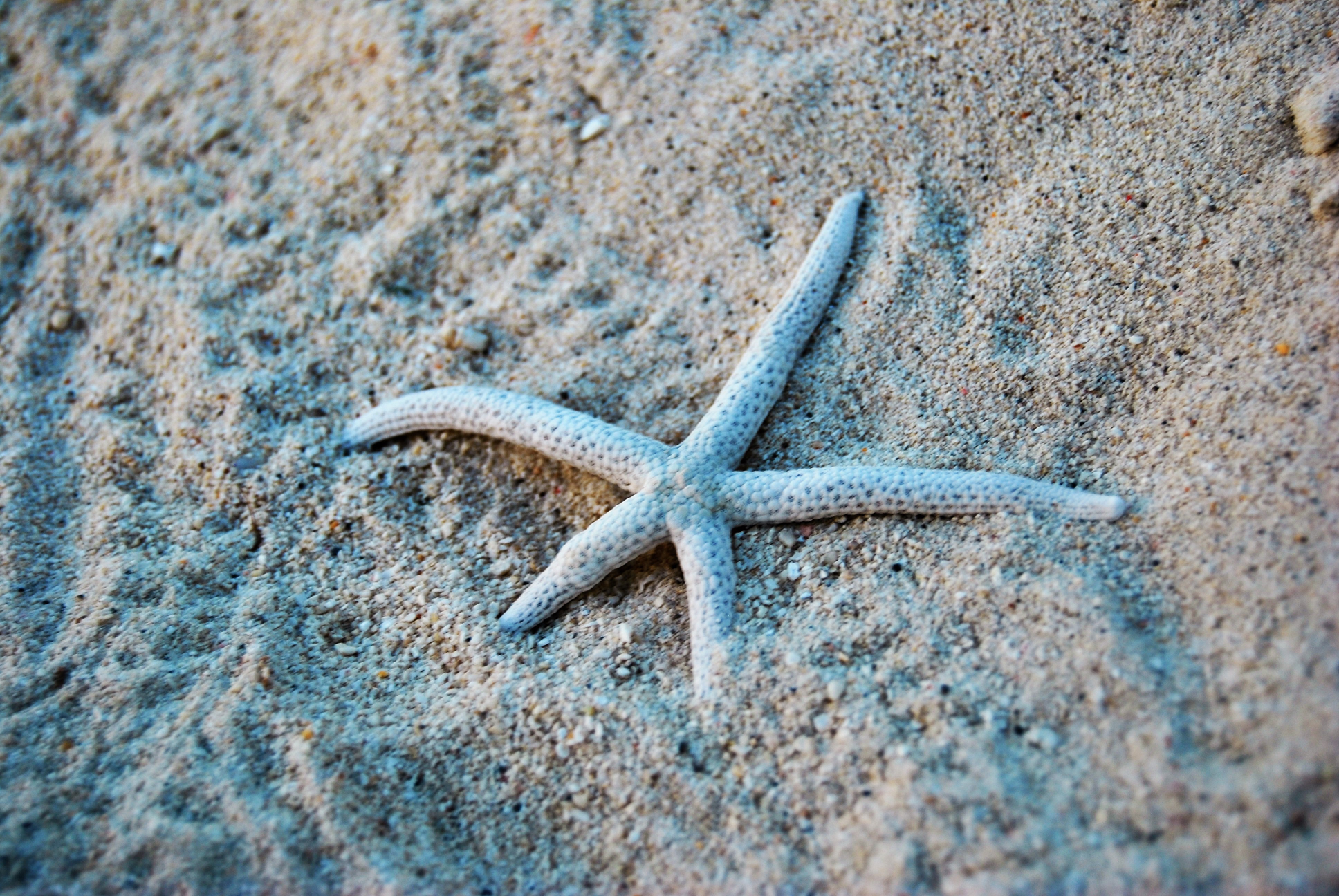 MARRIAGE OR MARRIAGE VOWS RENEWAL

 
What better setting in Maldives to seal such an important moment. If you are already married but you want to have a special memory or you want to carry out the ceremony in this splendid context, our structure organizes both weddings – bearing in mind that them cannot be legally registered – and ceremonies for marriage vows renewal. Have a dinner and a night on a desert island or on a sand bank can be added to this ceremony.